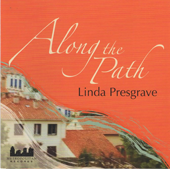 While Linda Presgrave has been an important part of the New York jazz scene since 1998, displaying consistent originality as both a pianist and composer, traveling overseas has long been a significant part of her career. Along The Path introduces suites inspired by her visits to Asia and France.
For this project, Linda gathered together some of her favorite musicians including several who she has worked with many times before. "Harvie S, who was on my first CD In Your Eyes, has been on every one of my CDs. He is a brilliant bassist, his creativity adds so much to the music, and I always feel very comfortable playing with him. This is the third time that I have recorded with drummer Allison Miller including on my last CD Inspiration. She always inspires us. Todd Herbert is a terrific saxophonist who deserves wider recognition. Vincent Herring, the great alto player, is a good friend of mine and I feel honored that he played a couple of pieces with us. I work with vocalist MJ Territo's group Ladies Day; she wrote the words to "Bird Of Céret". As for Stan Chovnick, he is not only a great soprano sax player and the producer but my husband. I wrote a lot of the pieces with him in mind."
The four-part Asian Suite began to come together during a trip to Hong Kong a few years ago. Linda was walking on a path in Ngong Ping Village and she noticed a sign listing how many miles it was to the United States and to other countries of the world. "It made me think about the coming together of east and west." "Along The Path," which serves as the overture to the suite, has a distinctive melody and a catchy rhythm. Linda's ability to open her jazz playing to the Asian influence and her direct and melodic playing are a little reminiscent in spots of Horace Silver. Her arrangement includes a straight ahead section for Stan Chovnick's soprano plus short spots for Harvie S and Allison Miller.
The French Suite was inspired by Linda's 2006 tour in France. The six-part work has a trio number, three quartet pieces (each with a different horn), a song with all three horn players, and the final number with a vocalist.
"Where East Meets West" is an homage to Macau, a city that was originally a Portuguese colony in China. The arrangement mixes together the cultures of China and Portugal in an inventive and very musical fashion "Harbor Lights" is a light melodic piece that was written in tribute to the scenic views of Hong Kong and the popularity of pop/jazz in that international city. Stan's soprano takes the melody and Linda's chordal solo perfectly fits the piece.
"Asakusa View" is named after a hotel in Tokyo where Linda and Stan stayed. "When we opened the curtain in the room, we saw the magnificent Sensoji Temple." The melody for this closing movement in the Asian Suite is particularly memorable as are the powerful soprano solo, Linda's piano playing and the drum breaks.
Collioure is a seaside town in Southern France that is filled with artists. "Colors Of Collioure" is an attractive waltz that features Linda's piano playing at its most beautiful. Céret is also in France's Catalan region. Linda was inspired to create "Bird Of Céret" while sitting on the balcony of her hotel room and hearing a local bird's song. Stan's soprano embraces the haunting melody. "You Just Never Know" received its name when Linda thought about how "you just never know what is going to happen in the future or how things will fit together and cause other events to happen." The high-powered romp features a hard-swinging tenor solo by Todd Herbert that is worthy of John Coltrane, a swinging solo for the pianist and a colorful tradeoff by Harvie S and Allison Miller. Vincent Herring puts plenty of passion into "Blues For A Rainy Night," a dark blues-drenched ballad. All three saxophonists get a chance to take heated solos on "Place Picasso" which is named after a lively plaza in the town of Céret. Pablo Picasso had spent time in that city and it has an important modern art museum. The French Suite ends with a second version of 'Bird Of Céret ," featuring the voice and lyrics of MJ Territo who tells Linda's story of how the song came into existence.
Stan Chovnick's "Universal Freedom" (Stan and Linda's hope for the future) is a bonus track that concludes Along The Path. The minor-toned blues in ¾ time has passionate solos by Stan, Linda, Todd Herbert and Allison Miller along with a feeling of optimism.
Along The Path, which is filled with colorful solos and rich melodies, is one of Linda Presgrave's finest recordings and is a strong step forward for the talented pianist-composer.
~Scott Yanow, author of 11 books including The Great Jazz Guitarists, The Jazz Singers, Jazz On Film and Jazz On Record 1917-76
LIST OF SONGS:
The Asian Suite
1. Along the Path - 7:34
2. Where East Meets West (Macau) - 5:23
3. Harbor Lights (Hong Kong) - 5:01
4. Asakusa View (Tokyo) - 7:40
The French Suite
5. Colors of Collioure - 5:47
6. Bird of Ceret - 7:14
7. You Just Never Know - 6:20
8. Blues for a Rainy Night - 7:39
9. Place Picasso - 7:15
10. Bird of Ceret (The Story) - 3:48
Our Hope for the Future
11. Universal Freedom - 8:39
Total time: 72:40
Tracks 1 - 10 composed by Linda Presgrave (Metro Records Publishing Company) (BMI)
"Universal Freedom" composed by Stan Chovnick (Metro Records Publishing Company) (BMI)
"Bird of Ceret (The Story)" lyrics written by MJ Territo - (Hollie Jollie Music) (ASCAP)
MUSICIANS
Linda Presgrave - piano/arranger/composer
Harvie S - acoustic & electric bass
Allison Miller - drums & gongs
Stan Chovnick - soprano sax (1,3,4,6,9,11)
Todd Herbert - tenor sax (7,9,11)
Vincent Herring - alto sax (8,9)
MJ Territo - voice (10)
1 - Along the Path
2 - Where East Meets West (Macau)
3 - Harbor Lights (Hong Kong)
4 - Asakusa View (Tokyo)
5 - Colors of Collioure
6 - Bird of Ceret
7 - You Just Never Know
8 - Blues for a Rainy Night
9 - Place Picasso
10 - Bird of Ceret (The Story)
11 - Universal Freedom
Bird of Ceret (The Story)