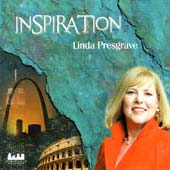 Ever since she moved to New York in 1998, Linda Presgrave has developed into a highly original pianist and composer. Starting with her debut CD from 2000, In Your Eyes, and continuing with The Linda Presgrave Quartet – Live and The Journey, she has become increasingly individual, sounding unlike anyone else while being inspired by many different artists, events and places. The Journey featured her group performing works by jazz musicians who happened to be women. Inspiration has ten additional selections by females including six by the pianist herself.
Born and raised in St. Louis, Linda Presgrave already had a very busy career before moving East. She started on piano when she was seven and a few years later began doubling on French horn. After earning her Masters from Washington University, she performed on French horn in orchestras for ballets, Broadway-type shows, brass ensembles and accompanying major entertainers while leading her own group After Six Jazz as a pianist, not to mention having a busy teaching career. In 1998, after meeting her future husband Stan Chovnick, she moved to New York and soon gave up the French horn in favor of concentrating exclusively on piano.
The concept behind The Journey and Inspiration originated in 2003 when Linda was invited to Frascati, Italy to appear in the concert series ControCanto: Donne In Jazz, specifically to perform music written by women. She returned to the Italian festival in 2004 and 2007 and was inspired to seek out additional works by talented females, particularly lesser-known but superior songs.
For Inspiration, Linda was happy to again be performing with very talented musicians.  "This is the fourth time that I've used Harvie S on my CD. His bass playing inspires me because he is very musical in addition to always being there time-wise. Drummer Alison Miller is very positive and professional, really enjoying what she is doing and doing it so well. I always really liked the soprano saxophone playing of my husband Stan; he is on four numbers. Todd Herbert, who is on two songs, is a new recording artist on the label and a wonderful tenor-saxophonist."
Trombonist-arranger-composer Melba Liston had a unique career and wrote many underplayed works including Insomnia, the opening number of this set. The quartet excels on the Middle Eastern feel of this selection, with Stan Chovnick's soprano making the piece sound a bit eerie. All four musicians have opportunities to solo, with Linda displaying some personal chord voicings over the blues changes.
Linda studied for a time with pianist Joanne Brackeen in the late 1990s. "She pushed me to start composing, and showed me that it is something that I needed to do. Playing my own compositions became part of who I am." On Brackeen's  Evening In Concert, the pianist takes an unaccompanied introduction before Harvie S assumes a major role. The complex but thoughtful piece features an eight-note downward phrase as its basis and is full of subtle creativity.
Bird Of Céret was written by Linda in Céret, France one day when she was out on the balcony of her hotel room and heard a syncopated bird call. Stan's soprano duplicates the bird call which sets up the piece. A little reminiscent of Night And Day in spots, the selections is a relaxed romp full of happy spirits.
Struttin' In Manhattan is about walking down the street and feeling great about being in Manhattan. It is a purposeful strut with forward momentum, allowing one to imagine walking fast in New York City while trying to take in all of the sights at once.
Holmes For Holmes  is a medium-slow blues that is dedicated to St. Louis trumpeter Randy Holmes, a local legend. It is a blues with an attitude that is suitably expressed by Todd Herbert during his passionate tenor solo.
Pianist Bertha Hope's You Know Who has an unpredictable chord structure, being bluish without being a blues. It inspires a catchy bass pattern near the end of each chorus, stimulating commentary by Allison Miller's drums, and an inventive piano solo.  
One for Patricia  was written for Patricia Adkins Chiti, the woman who heads the foundation in Italy that brought Linda to Italy. "She has done so much for cataloguing works by women that I thought it was time to pay tribute to her." The thoughtful floating jazz waltz is harmonically advanced, a bit classical-oriented, and features active bass and light drumming behind Linda's fine solo.
Cheap Cheese received its name because "the title is a poor translation of a great pasta dish that the musicians kept ordering in Italy." The cooking piece, which features fluent soprano, piano and bass solos, may be minor-toned but is quite joyful.
Billie Holiday wrote the words to Don't Explain, a standard that Linda gives a particularly emotional treatment during her solo piano feature.
Rome is a tribute to the city that Linda has visited three times in five years. The full quintet begins the piece in a spiritual vein that conjures up the image of ancient Rome before stretching out on heated solos that bring Inspiration to a rousing conclusion.
For the future, Linda Presgrave looks forward to traveling more extensively, continuing to explore women's compositions, and writing many originals of her own. She has the potential to make a major impact on the jazz world, with the highly enjoyable and creative music of Inspiration inspiring other musicians to develop their own voices.
Scott Yanow is the author of ten jazz books including The Jazz Singers, Bebop, Trumpet Kings, Jazz On Film and Jazz On Record 1917-76.
 
On Inspiration
A close musician friend of mine suggested that I might want to think carefully about entitling this CD Inspiration.  Why did he suggest this? He mentioned that in this day and age, too many things will come up when you "google" in the word Inspiration when searching on the internet.  I understand the importance of this from a marketing stand point especially when releasing a CD and a jazz CD at that.  However, if there is one thing that I have learned in life, it is important to know what your priority is  when making a decision.  My priority is that the works on this CD truly did come to me directly from either " divine guidance" or some "influence"  as the word inspiration has been defined.   And so, there it is.  I can honestly not think of a more apt title than Inspiration for this very personal recording and I will just trust that it will travel from the un-manifest  to the manifest – even on the internet . 
 ~ Linda Presgrave   
Acknowledgements:
My parents, Walter (Bud) Brophy and Willine Brophy,  who have passed on but will always be with me; My brother, John Brophy, an outstanding drummer and musician who inspired me musically from a very early age; My husband/producer, Stan Chovnick, who has always supported my music and believed in me.
THE PLAYERS
Linda Presgrave - piano/arranger/composer
Harvie S – bass
Allison Miller – drums
Stan Chovnick – soprano sax (1,3,8,10)
Todd Herbert – tenor sax (5,10)
THE TRACKS
1 - Insomnia - Melba Liston Lively Arts Publishing Co (BMI) (9:07)
2 - Evening in Concert - Joanne Brackeen New True Illusion (BMI) (6:35)
3 - Bird of Céret - Linda Presgrave Metro Publishing (BMI)  (7:04)
4 - Struttin' in Manhattan - Linda Presgrave Metro Publishing (BMI) (5:52)
5 - Holmes for Holmes - Linda Presgrave Metro Publishing (BMI) (8:24)
6 - You Know Who - Bertha Hope Second Floor Music (BMI) (5:07)
7 - One for Patricia - Linda Presgrave Metro Publishing (BMI) (5:46)

8  - Cheap Cheese - Linda Presgrave Metro Publishing (BMI) (4:28)
9 - Don't Explain - Arthur Herzog, Jr. & Billie Holiday Songs of Universal Inc. (BMI) (3:29)
10 - Rome - Linda Presgrave Metro Publishing (BMI) (7:05)
Evening in Concert - Joanne Brackeen