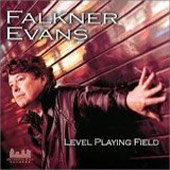 Falkner Evans is a name you may not recognize.  However, with his talent, you will soon get to know and love his music.  I first became aware of Falkner in the fall of the year 2000 and was drawn into his music by its depth, passion and swing.  In speaking with him about his first release as a leader he commented:
"The music recorded here is a reflection of the collaborative spirit.  The original tunes form a synthesis of the many musical and non-musical inspirations that underlie these compositions.  The standards, with the exception of the k.d. lang piece, are tunes that I have been close to for a long time.   They reflect the American song form that I find so appealing."
I am proud to present to you, pianist Falkner Evans.
- Carl Allen
October 2001
THE PLAYERS
Falkner Evans - Piano
Cecil McBee - Bass
Matt Wilson - Drums
THE TRACKS
1 - So What Do You Mean? (for Taco) (6:17)
2 - Mudan Red (5:46)
3 - Somewhere (8:27)
4 - Wash Me Clean (5:48)
5 - The Way After (5:58)
6 - I Got It Bad (6:29)
7 - A Lokey Groove (7:16)
8 - For Heaven's Sake (5:18)
9 - Level Playing Field (4:01)