Vincent Herring and various artists
---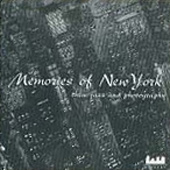 Ah, the island of Manhattan! The skyscrapers rule with grace. The air sizzles with energy. The people scurry with excitement. New York City is a veritable cornucopia filled with architecture, culture, entertainment, neighborhoods, people, restaurants, subways and of course Jazz.
On 52nd Street off of 6th Avenue, the sidewalk displays tarnished tributes to the immortal Jazz artists who historically reigned supreme on the greatest Jazz street in the world. Although this famed street no longer touts the legendary jazz haunts, jazz continues to be very much alive in New York. New clubs are popping up all over the city, while the veteran clubs continue to present the greatest jazz musicians and the finest jazz music anywhere on the planet.
What better way to remember New York than with a souvenir CD filled with well-known "New York" music recorded by top jazz artists and with exquisite photographs of celebrated New York landmarks documented by famed photographer George Forss. "Memories of New York" will keep the sights and sounds of NYC as an ever present memory.
THE PLAYERS
Vincent Herring - Saxophones
Gary Fisher - Piano/Arranger
George Mitchell - Bass
Carl Allen - Drums
Ronnie Matthews - Piano (on #8)
Richie Goods - Bass (on #8)
THE TRACKS
1 - Broadway (3:22)
2 - How About You (3:03)
3 - Take the A Train (3:44)
4 - Central Park West (3:45)
5 - Autumn in New York (5:03)
6 - Lounging at the Waldorf (4:47)
7 - New York State of Mind (4:19)
8 - In a Sentimental Mood (9:12)