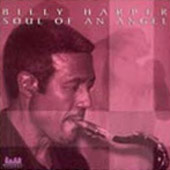 With "Soul Of An Angel" Billy Harper makes history.
It marks the first time an American record company has taken him into a recording studio.  Ever since the saxophonist moved from Texas to New York City in 1966, members of his worldwide cult have wondered about this puzzling - no, criminal - matter of record industry neglect.  While Harper's urgent, wailing sound lifted the bands of Art Blakey, Max Roach, Randy Weston and Gil Evans, American audiences were left searching for the obscure, supercharged LPs they knew Harper was recording in Italy and Japan.  
The state of affairs didn't bother Harper.  He doesn't "hunger," as he puts it, for money or fame, because the music gives him all the sustenance he needs.
Excerpt from liner notes by Richard Scheinen
THE PLAYERS
Billy Harper - Tenor Sax
Francesca Tanksley - Piano
Newman Taylor Baker - Drums
Clarence Seay - Bass
John Clark - French Horn
Eddie Henderson - Trumpet
THE TRACKS
1 - Thine Is The Glory (13:36)
2 - Credence (6:55)
3 - It Came Upon A Midnight Clear (8:47)
4 - Let All The Voices Sing (8:42)
5 - Soul Of An Angel (12:08)
6 - Was It Here...Is It There? (8:27)
It Came Upon A Midnight Clear
Was It Here...Is It There?