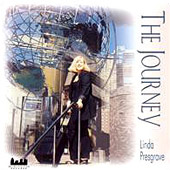 AN OPPORTUNITY
In June of 2003, I was asked to perform in an ensemble made up of members of the New York based not-for-profit organization International Women in Jazz. This ensemble was featured in a concert entitled It's a Woman Thing as a part of the 2003 New York JVC Jazz Festival. Shortly after this performance, Patricia Adkins Chiti, President of Fondazione Adkins Chiti: Donne in Musica (Women in Jazz), invited a smaller version of this ensemble to perform on the concert series ControCanto: Donne in Jazz in Frascati, Italy in December of that same year.
THE INCEPTION
On the plane ride home from the ensemble's performance in Italy, an idea for a project came to me. Along with being humbled by the great work that Patricia Adkins Chiti was doing for women composers with Donne in Musica, I began to think about how many remarkable women jazz musicians there are who have written music that is not performed very often. When I arrived back in New York, I immediately started searching for compositions that I could add to my own ensemble's repertoire. In early 2004, a call for proposals came from the Italian based foundation to the members of the International Women in Jazz. I eagerly submitted my proposal to Donne in Musica and was fortunate to be selected to perform on the 2004 ControCanto: Donne in Jazz concert series with my own quartet (Wei-Sheng Lin – bass, Seiji Ochiai – drums, Stan Chovnick – soprano sax).
THE MUSIC
The six jazz musicians whose music is featured on this recording are women that I truly admire not only for their musical talents but also for their tenacity to survive and thrive in the world of jazz. I feel honored to have my own compositions on the same recording with the works of these great jazz musicians who happen to be women.
The Journey (Linda Presgrave) The Journey symbolizes a trip along the path of life where with each step there is a new discovery.
Willow Weep for Me (Ann Ronell – Composer, Singer/Tin Pan Alley Composer) Although Ann Ronell was known as a composer of operas and film music, she is probably best known for this great jazz standard.
Soul Searchin' (Shirley Scott – Composer, Hammond Organ/Hard Bop, Soul Jazz) Shirley Scott is often labeled "Queen of the Organ" and was best known for her "spirited" performances and "aggressive" style blending bluesy melodies with bebop harmonies.
Kokopelli's Dream (Linda Presgrave) This almost meditational work was influenced by a love and an interest of mine in the Native American Indian culture. Kokopelli, a familiar icon, is often known as the hunchback flute player, as a wandering minstrel with a sack of songs on his back trading new songs for old, as a harbinger of fertility and as a god of the harvest.
Koolbonga (Mary Lou Williams – Arranger, Composer, Piano/Stride, Post Bop, Swing, Bop) For many years Mary Lou Williams was often referred to as jazz's greatest female musician. Koolbonga, from her London Sessions album, incorporates a bluesy style with more modern tonality that is so representative of Mary Lou's music.
Billy (Melba Liston – Arranger, Composer, Trombone/Hard Bop, Bop) There are few women jazz instrumentalists, composers, or arrangers who have a list of credentials as impressive as Melba Liston's. For many years she was the only woman in America to play trombone seriously and on par with male musicians. Billy is a beautiful touching ballad that someday will hopefully find its way into the standard jazz repertoire.
West End Samba (Linda Presgrave) This latin flavored jazz tune happens to be my first jazz composition and was written just in time for a gig in St. Louis at West End Wines formerly owned by my friend Melanie Harvey.
Zagreb This (Melba Liston) Zagreb This has a catchy title utilizing a "play on words" that is so typical of titles in the jazz idiom. The harmony and tonality of the "A" section is reflective of the Croatian area of Zagreb.
That Special Time of Year (Linda Presgrave) This is my contribution to the pool of holiday seasonal music: a jazz ballad in ¾ time portraying the warm and sentimental feeling that the holiday season brings no matter what traditions are followed.
Yvonne's Cornbread (Linda Presgrave) There is a great little "southern cuisine" restaurant located in Pelham, New York named "Yvonne's" that makes the best cornbread ever. This tune is a blues tribute to that culinary delight.
In the Days of Our Love (Marian McPartland – Composer, Piano/Post Bop, Swing, Bop) Although a well respected pianist for decades with more than 100 recordings as a leader, Marian McPartland is probably best known for her radio program "Piano Jazz." In the Days was originally entitled Afterglow but later Peggy Lee added lyrics and supplied the new title. This tune represents Marian's signature style of writing and of playing beautiful ballads.
Ptah, the El Daoud (Alice Coltrane – Composer, Harp Piano, Organ/Avant-Garde Jazz, Free Jazz) Alice Coltrane came into prominence after she met John Coltrane in the mid-sixties. Her personal spiritual quest is evidenced strongly in her music. Of the title, Ptah, the El Daoud, Alice says: "Ptah is the name of an Egyptian god – in fact, one of the highest aspects of God, 'The Beloved.' My meaning here was to express and bring out a feeling of purification. Sometimes on earth we don't have to wait for death to go through a sort of purging, a purification. That march you hear is a march on to purgatory, rather than a series of changes a person might go through."
INSPIRATION
I would like to dedicate this CD to the following three people who have passed away but continue to inspire me in very different ways. The first and foremost is my wonderful Mother, Willine Brophy, who died in March of 2003. Her encouragement, support, understanding and love continue to live in my heart. The second is Charles Payne, the smilin' and swingin' drummer of my group in St. Louis, who believed in me and encouraged me right from the beginning. The third is the great tenor player and supreme gentleman, John Stubblefield, who was featured on my first CD, In Your Eyes.
THE PLAYERS
Linda Presgrave - Piano, Arranger, Composer
Stan Chovnick - Soprano Sax, Whistle, Indian Bells
Oliver Lake - Alto Sax, Flute
Harvie S - Bass
Wei-Sheng Lin - Bass
Eric Allen - Drums
Seiji Ochiai - Drums
THE TRACKS
1 - The Journey (9:35)
2 - Willow Weep for Me (5:35)
3 - Soul Searchin' (5:09)
4 - Kokopelli's Dream (7:16)
5 - Koolbonga (4:50)
6 - Billy (4:44)
7 - West End Samba (5:44)
8 - Zagreb This (6:18)
9 - That Special Time of Year (5:19)
10 - Yvonne's Cornbread (4:11)
11 - In The Days of Our Love (4:09)
12 - Ptah, the El Daoud (7:13)